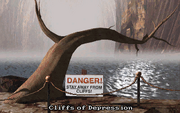 Sometime after
the Cluster
was stolen by
Canuk
in
1635 GUE
, he began to take orders from it.
The Cluster
commanded
Canuk
to build the
Citadel of Zork
out of
Illumynite
. Shortly after, Canuk engineered the
Cliffs of Depression
for mining Illuminyte and
Translumynite
to build the evil underground empire.
Through the passing of time, the Cluster mutated into Morphius who still had control over Canuk's mind and had already taken command over the vultures, to carry people off into the cliffs to be slaves. Those without a Bonding Plant could not leave and those who had one, would get too depressed eventually, thus making the plant die. The Sweepstakes Winner was one of the few who visited the cliffs in an attempt to recover a piece of the legendary Flying Disc of Frobozz; and was able to leave before his bonding plant died.
Community content is available under
CC-BY-SA
unless otherwise noted.